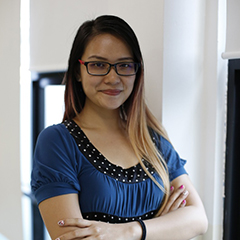 Originating from Sabah, Bernice comes from a background of a variety of art and culture. She first obtained her Diploma in Architecture in Sabah Institute of Arts and worked for a year in an architecture firm. Not liking the office environment, she decided to pursue her studies in West Malaysia and was awarded First Class Honours with Distinction for the degree in Bachelor of Dance at University of Malaya, Kuala Lumpur in October 2019.
Bernice has experience in teaching dance to children and teens for almost 10 years. Her recent dance workshop (Basic Hip-Hop Workshop) was conducted in August 2019 in Sabah for a secondary school Christian camp called Teenstreet Sabah. She has also been a teacher in her church's Sunday School class which involves taking care and teaching children of ages between 3 – 12. As a part-time dance teacher in CDC, she believes that dance and movement can be one of the most memorable experiences for a child while growing up. She intends for children to enjoy their childhood where dance and movement can be a fun activity for them.
Other than her passion for dance, Bernice loves to bake and play video games during her free time. She loves sports such as basketball. She is a very competitive and self-driven person. Since 14 years old, she has joined performances and competitions, became a cheerleading captain for years, and led dance groups and organisations. Her most successful project was the formal dance showcase hosted by the Dance Department, University of Malaya in May 2018 where she became the production leader for that year.
---