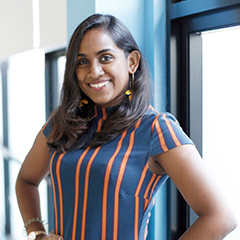 Anusha graduated with Second Class Honours in the Bachelor of Education from St Mark and St John University and SEGi University majoring in Early Childhood Education and minoring in Guidance and Counselling. She also obtained a Diploma in Early Childhood Education.
She has been working with children since 2008 and discovered her passion for teaching during that time. Most of her experiences involve preschool children between 2.5 to 6 years old. She has also tutored primary school children and volunteered as an English tutor for 13 to 15-year-olds organised by her church. She used to teach at her church's Sunday School classes and is experienced in supporting children's camps.
Her hobbies are baking cakes and cookies while also dabbling in recipes that do not require the use of an oven. She discovered a love for reptiles and exotic animals during her college years and has kept different pets over the years. She has cultivated a love for reading non-fiction books. Her favourite quote from one of her favourite books is "One child, one teacher, one book and one pen can change the world" by Malala Yousafzai.
---