30 August 2019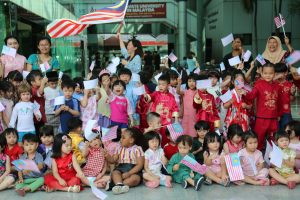 While Malaysians turned to the military parade at the boulevards of Putrajaya in celebration of Malaysia's 62nd independence day, here at UCSI's Child Development Centre (CDC), 95 kids from the ages of 18 months to 6 years old marched to their own beat, flags a-waving, in fully dressed traditional attire.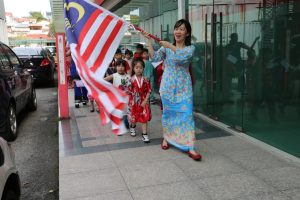 And while the Merdeka parade at Putrajaya awed the public with the fighter jets flyovers, choreographed dance performances and 14,885 personnel from 34 contingents involving the police and Armed Forces, nothing could beat the march of the young and cute children!
Lennie Pang, manager at CDC, described how the whole event tried to show and teach the values of harmony, multiracialism, peace and diversity amongst the cultures of the world, especially since there were children from Nigeria, China, and Poland as well.
'We need to teach children from a young age to learn not just about their culture but to also respect our different cultures, races and beliefs in society.'
'Furthermore, we want to inculcate the meaning of 'Merdeka', and teach the children the spirit of patriotism and love of country. We presented to the children the notions of peace, faith and grace,' she said.
The day started off with the children singing the Independence Day 2019 theme song, called Sayangi Malaysiaku: Malaysia Bersih, followed by a performance by 3-year olds to tune of the Malaysian folk song 'Can Mali Can'.
The teachers then proceeded to introduce the various traditional costumes that everyone was wearing, followed by a fashion show by the children themselves.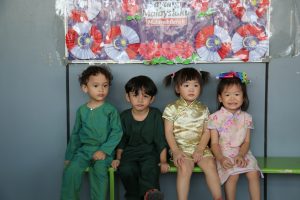 There was then a delicious presentation of food of Chinese, Malay and Indian cuisines, such as Dim Sum, Pau, Steam cakes, Nasi Lemak, Kueh Keria, Cekodok Pisang, Idli, Thosai, and Chappati.
And what way best to end the day by having the kids march around the campus to the famed Malaysian singer Sudirman's song 'Tanggal 31' while waving the Malaysian flag?
To exercise and engage with the children's creativity, they created art using their handprints (coloured with the Malaysian flag colours).
Lennie added that the setting up of the UCSI CDC is consistent with their mission to provide young learners with holistic, child-centred and enjoyable learning experiences, to help them build a strong foundation of good character and give them a head-start to their subsequent education and development.
'We must bear in mind that as children create and paint their own lives, us as educators guide and paint their lives as they develop,' she commented.
And no words were more real, as the children painted on mah-jong paper, creating a bright tapestry of a shared and harmonious future that will be inherited by these children of tomorrow.