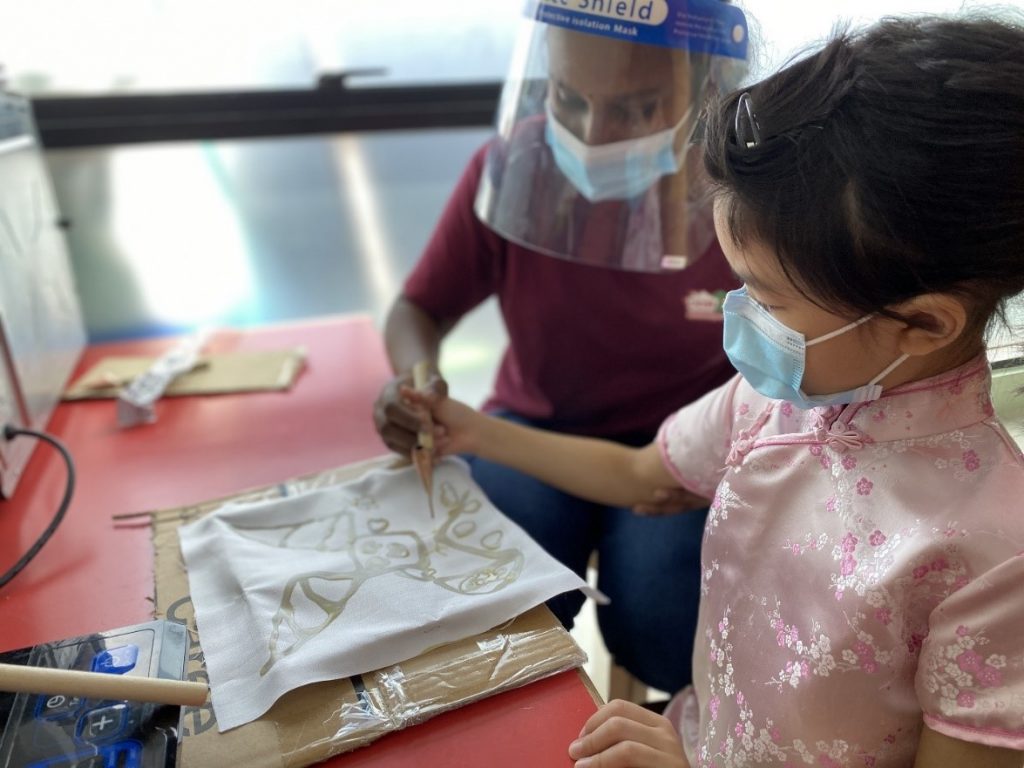 UCSI Child Development Centre (CDC), also known as UCSI Kindergarten / UCSI Preschool celebrated Malaysia's 63rd Independence Day on 28 August 2020. The celebration aimed to have the children express their love for the country. This included recognising the symbols of the nation such as the Jalur Gemilang, our national flower – hibiscus (or also called Bunga Raya), as well as the unique traditions and cultures of Malaysia.
Some of the highlights of the celebration were the Batik painting and puppet shadow show or Wayang Kulit. The Batik painting activity was targeted to 6-year-old children, where they learnt that Batik is one of the unique traditions of Malaysia.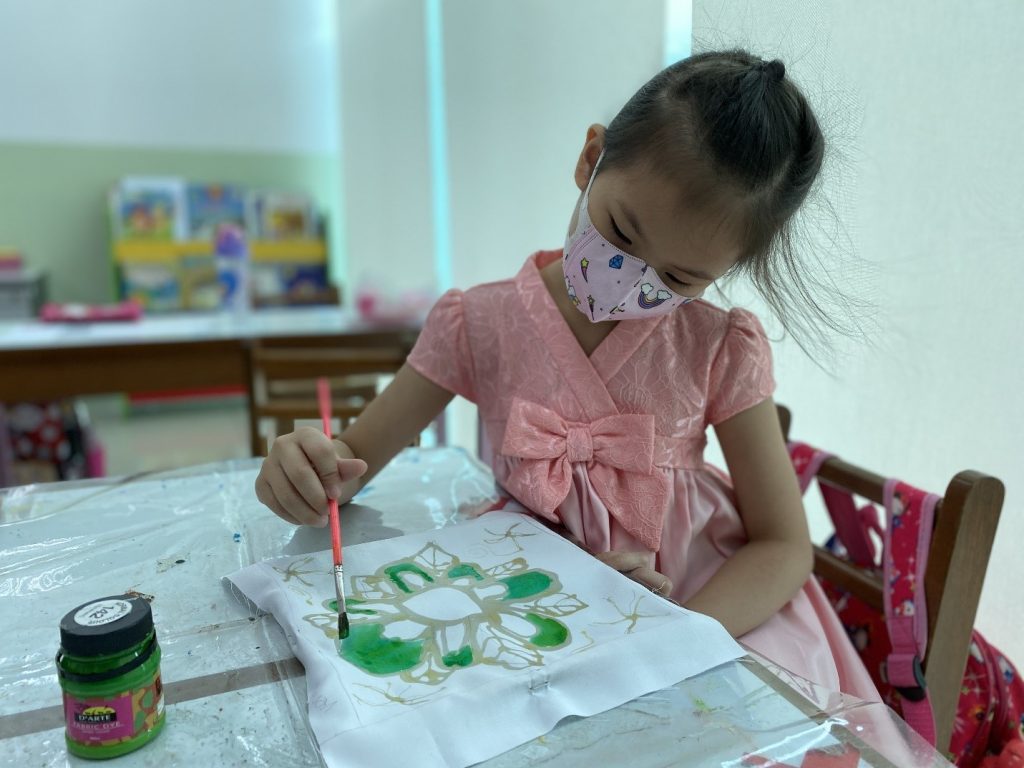 In this activity, the children were taught how to handle the Batik painting tools such as how to handle hot wax with care as well as canting – a pen-like utensil used to apply liquid hot wax in the Batik making process using a small pipe spout and bamboo handle.
The painting process required children to have good hand-eye coordination by drafting the patterns that represent patriotism on a white cloth pulled on a wooden frame. Then, they continued to paint the outline of the patterns using hot wax and canting before painting it using batik dye.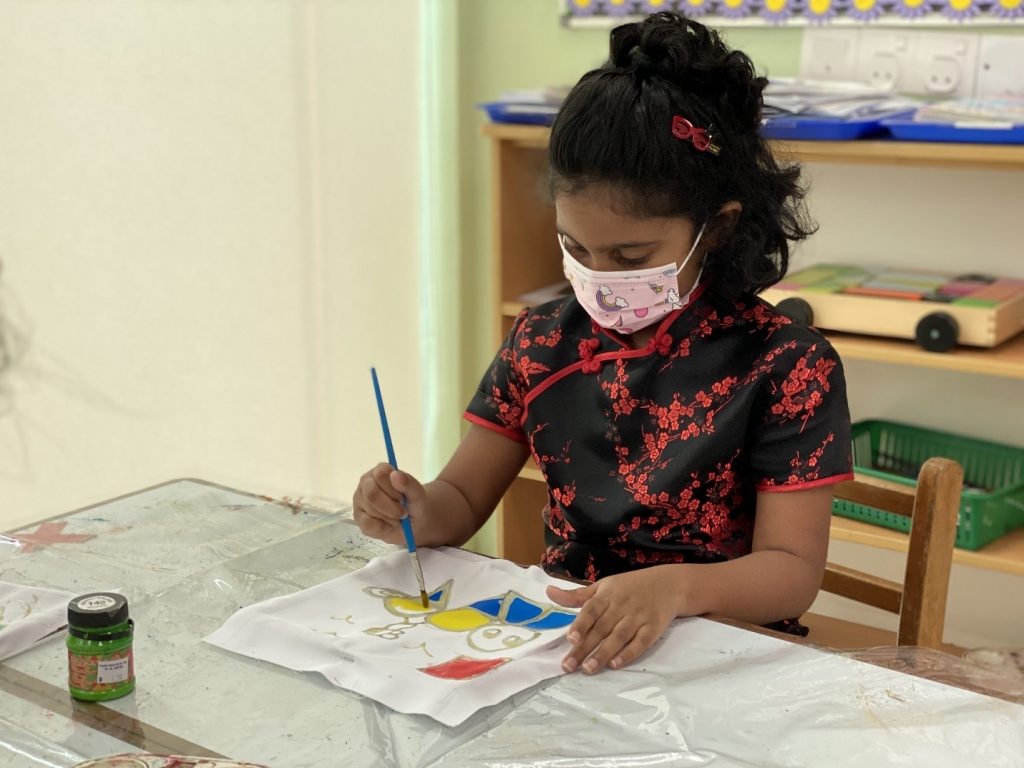 Another highlight of the Merdeka Day celebration at UCSI CDC was the Wayang Kulit for four-year-old children. Wayang Kulit is an ancient form of storytelling and entertainment which uses flat cut-out figures (shadow puppets). Additionally, Wayang Kulit is a unique form of theatre employing light and shadow.
Giving the chance to experience one of Malaysia's cultural pieces, the children were given puppets cut out representing a human figure holding the Malaysian flag. They coloured the cut out of the puppet and mounted it on a bamboo stick before they were given the chance to perform the patriotic song, Tanggal 31 Ogos using their own created puppet in front of a white cloth screen.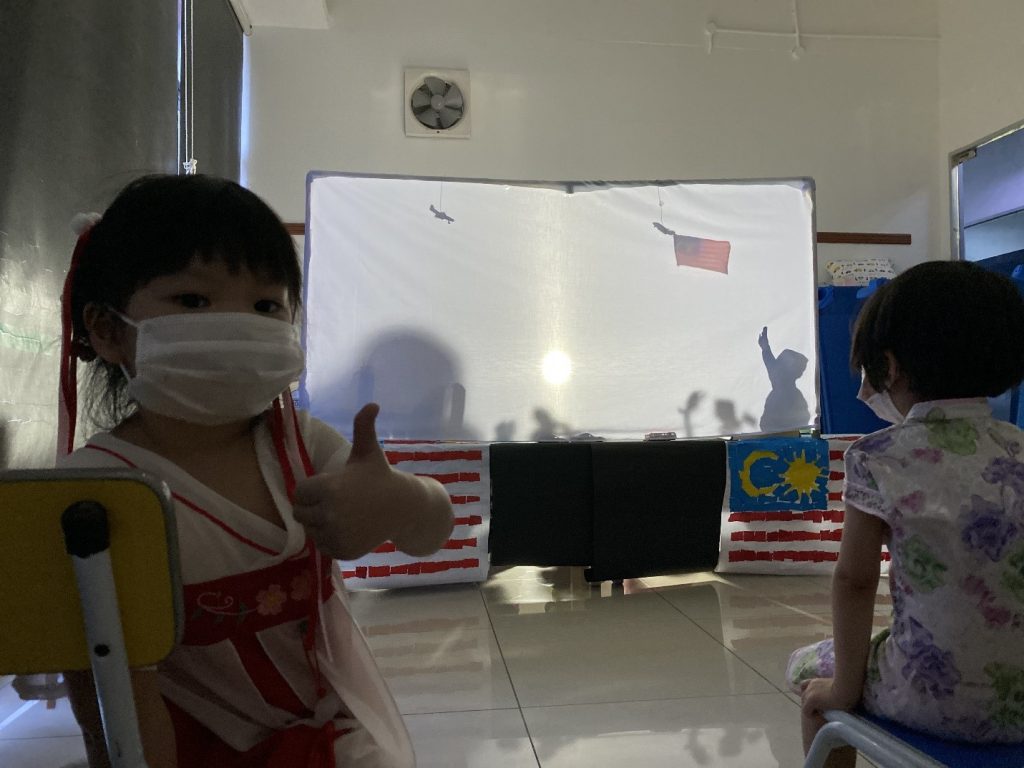 By organising these events to celebrate Malaysia's Independence Day, we can help contribute to the importance of knowing the cultures and traditions of Malaysia. Apart from that, this celebration also helps to maintain and sustain the value of traditions and cultures for future generations.
The celebration then ended with a patriotic poem recital titled Pantun Merdeka:
Bendera berkibar di rumah Pak Agos
Di halaman rumah pasang pelita
Menjelang tiba Tiga Puluh Satu Ogos
Tarikh kemerdekaan negara kita.
Bersyukur menjadi rakyat Malaysia
Bumi bertuah indah permai
Enam puluh tiga tahun kita merdeka
Raykat hidup aman damai.
Setiap tahun menyambut merdeka
Jalur gemilang berkibar megah
Sejarah negara jangan dilupa
Beratus tahun kita dijajah
Kaum Melayu, Cina dan India
Hidup sejahtera bersatu padu
Jasa pemimpin jangan dilupa Rakyat terbilang negara maju.