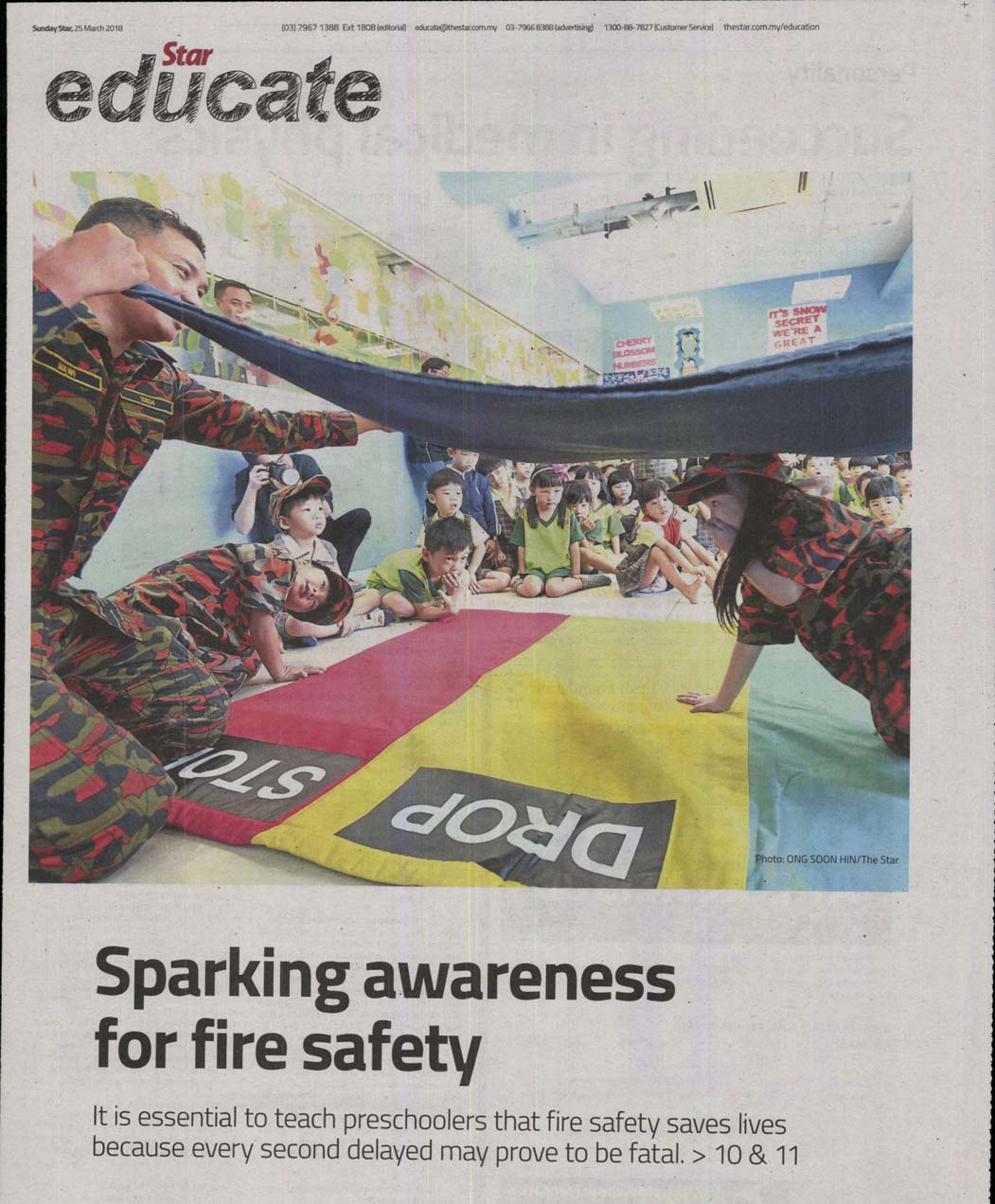 Educators explain how preschoolers can be taught vital fire safety information that can make a big difference in case of an emergency.
By SANDHYA MENON
[email protected]
"SCREAM fire" "Spray water!" "Stop, drop and roll!"
THESE were some of the responses from preschoolers aged between three to six at the UCSI Child Development Centre during a recent fire drill. Held thrice annually, the fire drill is one of the efforts the centre takes in raising awareness among the young on the do's and don'ts in case a fire breaks out. A number of tragic accidents caused by fire of late has gripped the nation; from the fire in Tahfiz Darul Quran Ittifaqiyah in Kampung Datuk Keramat, Kuala Lumpur, last September that killed 23 students and teachers, to the fire that broke out in SK Sentosa, Tawau in February. Acknowledging this, the centre aims to develop and produce quick thinking students who know how to react in such situations, says its manager Pang Yin Ling. For her, education is key in raising awareness.
"We teach them the basic emergency numbers they should know by heart and steps they must follow to ensure their safety, based on tips and advice given by the Fire and Rescue Department. "A child has a very short attention span, it is likely that they will forget what they have learnt at the beginning of the year. "Therefore, my teachers and I make it a point to educate them over a period of time," she adds. Pang says the Fire and Rescue Department, and the centre inculcate fun learning into their activities with the pupils as a means of engaging with them; younger pupils also learn faster via play. With each lesson, pupils are effectively able to demonstrate methods of escaping, she shares. While the centre runs its own fire drill sessions and talks, Pang feels it is also important to have professional firefighters over to demonstrate. Helping kids to be fire ready Cheras Fire and Rescue Station chief officer Mohd Khairul Azmi Jaafar agreed with Pang, stating firefighters are ready to assist.
"The Fire and Rescue Department has established a club called Kelab 3K (Kelab Keselamatan Kebakaran Kanak-Kanak), which focuses on child care centres, through its fire safety modules and exercises. "Once a child care centre is registered with Kelab 3K under a Fire and Rescue station within its area, we have their records and closely monitor which centres conducts fire drills and other programmes.
'This way, we can supervise and are able to call up the centres which do not practise drills regularly," he adds. The aim behind Kelab 3K is to inculcate a basic understanding and knowledge of fire safety for schoolchildren. Mohd Khairul says a common misconception that occurs is society placing full responsibility on the Fire and Rescue Department to raise awareness. Fire has no friend or foe, he stresses. "The responsibility to educate the young falls on society as a whole. In our campaigns, we emphasise one fire extinguisher for one home. "Besides being an active fire protection device, placing it in homes will also attract a child's curiosity. "As they start asking questions, we educate them and it subsequently creates a cycle," he shares.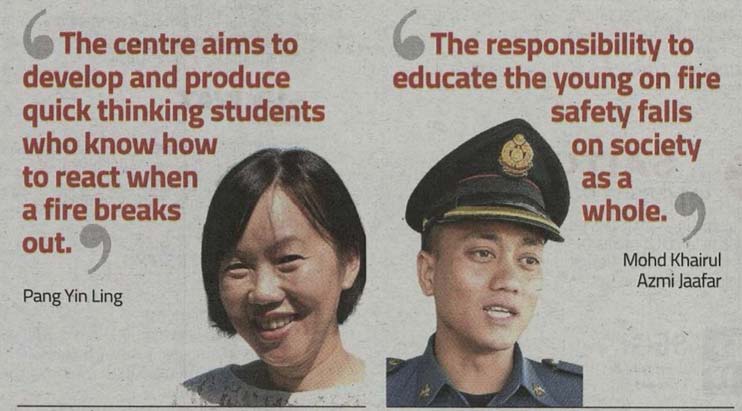 UCSI Child Development Centre head of academic affairs and child psychologist Dr Chiah Wan Yeng states that fire drills conditions a child on how to deal with an emergency. "Classical conditioning is a learning technique that can be applied to train children in dealing with emergency situations. "It is one of the most constructive methods because by conditioning them to such situations, children learn how to respond following a stimulus. "In a fire break out, the alarm is the important stimuli and the response that follows this stimulus will be the key to their survival. "Children should be taught the right procedures because knowing what to do is crucial in easing their tension in such situations," she adds.
Dr Chiah says practising and experiencing survival skills are reinforcement actions for children to strengthen their understanding. "We only learn from 20% of what we see; whilst it is 80% of what we experience that are absorbed," she adds. Fire drill practices is a crucial preventive measure and a periodical one is necessary, she emphasises. "When the evacuation procedures become conditioned responses, it requires the least amount of effort for the child to remember the steps. "They react automatically following the stimulus and this is critical because the delay in a person's response could lead to fatality," Dr Chiah says. Her words rings true in the case of Sekolah Tinggi Islam As Sofa's female students who escaped unhurt after fleeing their burning hostel dormitory that was destroyed in a fire last September. School principal Norbadrulzaman Nordin said the students were regularly educated on fire safety and it was made compulsory for them to attend drills. "We have always insisted that they must know what to do in the event of a fire. "In fact, after the fire (at Darul Quran Ittifaqiyah Tahfiz) in Kuala Lumpur, we reminded them of the importance of knowing where the exits are if a fire breaks out," he said when met at the scene. He added that prompt action by the students in notifying the wardens prevented the fire from spreading to adjoining buildings.
Cheras Fire and Rescue Station officer Haryati Abdullah agreed with Dr Chiah, saying every second delayed may prove to be fatal. "If a room is filled with smoke, crawl out with your nose covered and make sure your body is not more than one inch above the ground. "This is because clean air surrounds that surface. "Don't stop to collect valuables, your life is more important. "If your clothes catches on fire, roll on the floor to put out the flames. "Remember kids; Stop, Drop and Roll!" Haryati advises the curious children at UCSI Child Development Centre during the fire safety session. Other efforts just as crucial Universiti Putra Malaysia (UPM) piloted a programme called Safe Kids At Home: Preventing Fire and Burns with Honeywell last year. Safe Kids At Home is based on the Global Burden of Disease 2016 study conducted by Safe Kids Malaysia UPM, which found that one child dies from a fire or burn every two weeks in Malaysia. Therefore, it is designed to help prevent fires, burns and scalds among primary schoolchildren. "A large number of children were involved in fire incidents, but they escaped unhurt. "The study conducted in 2016 showed that 6.4% of parents reported fire in their home in the last two years. "More alarmingly, 54% reported that their children suffered at least one form of burn. "The same study found that while 51% of parents are worried that their children are more likely to suffer a burn or scald than any other injury, only one in three parents consistently teach their kids about fire safely," shares Safe Kids Malaysia executive director Assoc Prof Dr Kulanthayan K. C. Mani. The objective behind the programme is simple – Dr Kulanthayan, who is also from the UPM Faculty of Medicine and Health Sciences, says they hope to raise awareness on the sources of burn in a home and risky places where such sources are located at which can cause a fire and burn to
happen.
He says the top five causes of burn or scald injuries are contact with a hot utensil, hot iron, water heater, motorcycle exhaust pipe and firecrackers. The pilot programme was started in nine primary schools in Sentul, Kuala Lumpur, he shares. SK Kiaramas, one of the nine schools, has been carrying out the programme for a year. Zulfadli Saji, an English teacher in SK Kiaramas, says the pupils find the programme fun and educational. Some even show a keen interest in becoming firefighters, he adds. "Our pupils are more aware today and some are even able to teach their peers and parents on fire safety!
"It is very important for them to learn from a young age as it may come in handy in the future, not just to save their lives, but people around them. "More programmes like these should be implemented because it is not only about making our neighbourhood a safer place to live in, but it brings us together as one multiracial country," he adds. Dr Kulanthayan says they hope to empower and arm schoolchildren with knowledge on the sources of fire, how to identify, manage and avoid them. It is our vision that Safe Kids Malaysia UPM reaches every child in the country, he adds.