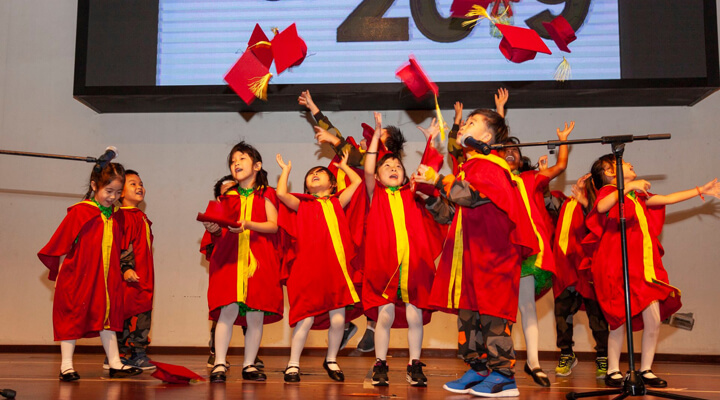 UCSI Child Development Centre (UCSI CDC) is one of the education units under UCSI Group. Our headquater, located at Cheras, provides a holistic learning experience for 150 toddlers and preschoolers.
UCSI CDC is one of the best preschool, or the best kindergarten at Klang Valley. We are well known in the Cheras community as Cheras best kindergarten / preschool centre.
Our centre designed to provide a pleasant and conducive learning environment for children to get a head start in academic excellence and overall, character development. We adopt an integrative learning approach using various child-focused themes, projects and activities which are tailored to the needs of each individual child.
Our centre offers plenty of interactions between teacher and child, and among children themselves, to encourage them to pursue their particular interests and talents through creative, independent thinking, as well as teamwork and responsible conduct. Thus, children are exposed to hands-on, multi-sensory learning which incorporates a blend of teacher-directed and child-directed instructions as well as generated-learning experiences. To ensure a well-rounded development, due attention is also given to their social, health, emotional growth and healthy food intake.
Our students engage in exploratory learning that blends both teacher-directed and child-directed approaches on a daily basis. Our syllabus is carefully designed to balance classroom learning with the development of life skills through games, outdoor activities and teamwork.
Every single detail is meticulously examined by our group of experts for the overall wellbeing of every child that comes to UCSI CDC.
Our Vision
UCSI Child Development Centre is committed to the pursuit of excellence and leadership in educational services and practice.
Our Mission
UCSI Child Development Centre will meet our vision by
Providing a balanced academic experience for children
Creating a suitable environment to help children grow into valuable citizens of the world
Acknowledging and responding to each learner's potential
Please do visit http://www.ucsigroup.com.my/ for more details on our Group.